Hardscape & Landscape Services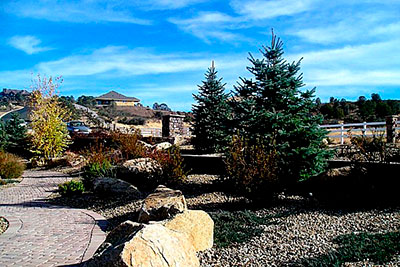 At Creative Outdoors LLC in Prescott, AZ, we take pride in providing our clients with various landscaping services. We offer everything from paver driveways, patios, and walkways to synthetic turf, sod installations, and fire feature design and installation. Our team of experts is highly skilled and experienced in handling these projects with precision and care. Besides new landscape installation services, we also offer maintenance services, including regular scheduled and one-off cleanups. Whether you need help with a new project or maintaining an existing one, we are here to help. We aim to provide superior services that meet your unique needs and exceed your expectations. We handle big and small landscaping projects with the same attention to detail and skills. While we never compromise on quality, we offer cost-effective solutions for all these services.


Landscape Maintenance
Keeping a beautiful landscape looking that way takes time and work, so we provide professional landscape care services. We provide a variety of plans to suit your demands, and we can even develop a plan from scratch if you like. Keeping the outdoor area in perfect shape is our priority. Our seasoned specialists are committed to providing individualized services and specific attention to each client. Maintaining your landscape's value and aesthetic appeal requires consistent care and attention, whether your property is residential or commercial. Maintaining attractive landscaping has several benefits, including raising the value of your property and making a good impression on customers, tenants, and potential buyers. We take the time to learn about your specific needs so that we tailor our services to fulfill those demands. We use high-end fertilizers and cutting-edge technology and assure you of the best results.


Cleanups
When it comes to maintaining a property's outdoor areas, regular cleanouts are essential. However, accumulating junk and clutter can create an unpleasant and unhygienic environment, which can overwhelm property owners. That's where we come in - our team provides efficient and reliable cleanup services for residential and commercial properties. No matter the property type, we handle all types of landscape cleanups with professionalism and expertise. Our cleanouts help homeowners reclaim valuable space, remove unwanted items, and create a clean and organized living environment. We can remove old yard waste, fallen branches, and debris, leaving your property's outdoor spaces clutter-free and refreshed. Similarly, for businesses, our cleanouts help maintain a clean and professional image, comply with safety regulations, and improve the overall appearance of their premises. Our team has the necessary tools, equipment, and expertise to handle any size or complexity of cleanups. Whether it's a small residential yard or a large commercial property, we guarantee efficient and reliable cleanout services.


Synthetic Turf Installation
A lush and green lawn is every property owner's dream when it comes to landscaping. However, maintaining it can be quite a task. That's where artificial turf comes in. It's an ideal alternative for residential and commercial properties, offering low maintenance and convenience that natural grass can't match. With synthetic turf, you only have to sit back and enjoy the green scenery without worrying about watering, mowing, or fertilizing. Cleaning and maintenance of artificial grass are also much more straightforward. Just use a blower to remove leaves, twigs, and debris as soon as they accumulate. The best part? Synthetic grass typically lasts ten years or more without fading or discoloring, even when exposed to the sun's ultraviolet rays. Given all these benefits, it's no surprise that artificial turf is increasingly becoming popular for lawns in residential and commercial settings. At Creative Outdoors LLC, we're equipped to handle projects of any size so you can enjoy the convenience of low-maintenance and beautiful synthetic grass in your outdoor spaces.


Sod
We deliver exceptional sod installation services to both residential and commercial clients. Property owners want quick and efficient lawn installations, and sod is the perfect solution. Our team of experts has extensive knowledge and experience in selecting the best sod products that will suit your specific needs. We provide our clients with comprehensive assistance in choosing the right sod products that will complement the existing landscape of their properties. Our experts will also handle the planning and installation process, ensuring the job is done professionally and efficiently. Our customized solutions cater to our client's unique needs and preferences, whether for a small residential backyard or a large commercial property. We use only high-quality sod products sourced from reputable nurseries to guarantee a healthy and vibrant lawn that lasts for years to come. In addition to installation, we also help with lawn restoration and repairs as required.


Landscaping
You want the surrounding areas to be as beautiful as possible and to increase the value of your home. We understand the importance of having a gorgeous yard or landscape, so we provide professional landscaping services. Expert landscape designers create unique designs based on the discussed specifications, and our company works with only the finest stoneworkers and paver installers to bring those designs to life. Our designs always aim to have a minimal impact on the environment while yet being visually beautiful, and we incorporate cutting-edge technology and eco-friendly, cost-cutting solutions. Whether you need hardscaping or softscaping, we've got you covered, and we only utilize high-quality products to ensure you can enjoy your new outdoor environment for years to come. Our company uses high-quality materials and the latest installation techniques to create superb outdoor spaces that will look great and last long. We have significant experience in designing and installing commercial and residential landscapes.


Fire Features
Installing a fire pit or outdoor fireplace can significantly improve the ambiance and utility of your outdoor living areas. Prefabricated fire features may be convenient and straightforward to set up, but they also lack individuality and charm. That's where our individualized assistance comes in. Our services will help your home or business stand out from the competition. We design and construct fireplaces to your specifications, including walls with chairs. Our team can design and build the component from the ground up, guaranteeing it will be aesthetically and practically attractive. This addition may make your home more pleasant and fun to spend time in and increase its market worth. We can build you a beautiful fireplace from scratch or update the one you already have.


Paver Walkways
Paver walkways can enhance your landscaping's aesthetics and make your outdoor areas more inviting and distinct. Our team works with you to create a durable and visually appealing path, no matter your preferred style. The advantages of installing paver walkways are numerous: they boost your property's curb appeal and enhance overall landscape flow. We provide comprehensive information on the best pavers for your specific needs. We specialize in installing natural stone and brick pavers and can also use various materials to create unique patterns and designs in your yard. Our high-quality materials make your walkways look beautiful and last for years. Pavers come in multiple sizes, shapes, practices, and colors, so you can expect a stunning pathway leading to your front entrance with our help. We design walkways for residential and commercial properties, taking the time to customize our services to our client's requirements.


Paver Patio
We provide exceptional paver patio construction services, handling everything from design to construction. Pavers are an excellent choice for high-traffic areas like patios, stairs, and walkways, thanks to their exceptional durability and adaptability to changing weather conditions. Unlike concrete, these units do not deteriorate over time, ensuring long-lasting beauty and functionality. We collaborate with you to understand your vision for your paver patio, and our experienced team delivers superior designs and layouts. With our expertise, you can rest assured that we will build aesthetically attractive and resilient paver patios. We use premium materials for all our installations to ensure they stand the test of time while blending with your landscape. We understand the importance of customization and offer cost-effective services to meet your specific needs. Whether you require a patio in a newly constructed or existing backyard, we can handle the job. Our team is committed to providing the best paver patio services, and we guarantee customer satisfaction.


Paver Driveways
Paver driveways have become a preferred choice for residential and commercial settings for various reasons. Pavers offer several advantages compared to asphalt, gravel, and even concrete driveways. A driveway paved with pavers can last up to five decades if you maintain them properly, making it an excellent financial investment. We use brick, concrete, or natural stone pavers based on your needs. The installation and maintenance of paver driveways are straightforward, and the finished product will catch people's attention in any setting. Concrete, natural stone, and brick pavers are all available to create a wide range of design options, and we'll help you choose the perfect design and plans. Paver driveways can also replace your old concrete driveway, adding aesthetic appeal to your property. Your driveway must be stable and resilient with heavy foot and vehicle traffic. Our team of experts ensures that all units are installed flawlessly, and hardscaping projects are completed to industry standards, providing long-lasting and high-quality results.

We are eager to offer our clients cost-effective, reliable, and practical landscaping services. Our comprehensive approach involves creating every aspect of your landscape, ensuring it meets your property's functional requirements and aesthetic preferences. We simplify your landscape management by offering various hardscaping options under one roof. Our skilled professionals proactively provide solutions that align with your project and needs. With our extensive experience in both commercial and residential landscaping, we have honed our creative and technical expertise to adapt to any project. Please don't hesitate to contact us if you have any questions or concerns about how we can assist you. You can call us at 928-445-1096 and discuss your requirement with our expert team or send Creative Outdoors LLC your queries and requests through our Online Form. Our team is helpful, knowledgeable, and skilled enough to handle all big and small landscaping jobs expertly.